Vinyl Flooring is a very popular flooring in the US and Europe due to the ease of installation and being economical. It is also warm to the feet during winter or in an air-conditioned room. It is also much easier to replace without the need for hacking. CME vinyl flooring uses recycled pvc making in environmental friendly as well. The vinyl flooring consists of i) a wear and tear layer with UV coating, ii) printed sheet, iii) recycled pvc balance layer and iv) base layer.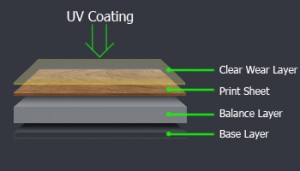 Wear Layer : 0.3mm
Thickness : 3.0mm
Width : 184mm
Length : 950mm
Usage

Home, School, Bank, Market, Public office, Hospital, Cafe, etc.

Feature

Anti-water & wet - Wine spills, water cleaning is not a problem.
Crack-proof - Strong to falling shock of sharp edge. Resilient LVT restores its surface.
Floor heating - High thermal conduction. PVC tile saves you 50% of house warming costs comparing wooden floor.
Various designs - World-class designer's 60 legendary patterns will surely satisfying your desire for sensuous space.